Testimonials
Check out what our students feel about the club...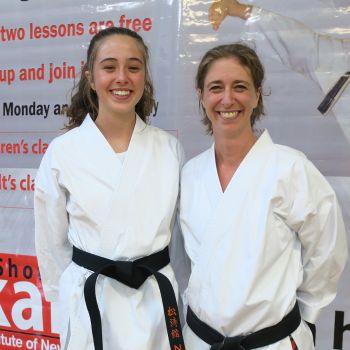 Julie (and Lili)
I started karate when I was 17 because I wanted to learn how to defend myself. I also liked the aesthetics and the thrive to get better that is inherent to karate. I kept on training because it's a fun way to exercise and it is challenging physically, mentally and psychologically. The sense of community found in a dojo is also something I really appreciate.
I strongly believe that every girl and woman should learn how to defend herself, just like I think everyone should learn to swim. Karate helps women realise how powerful they can be. That realisation has a great effect on their self-confidence. I have had the pleasure of observing this in my daughter and the other girls at the dojo. I can see it in boys too of course. I also see how they learn about working hard to achieve a goal.
I thoroughly enjoy training with my daughter. It's not just knowing what she is going through, it is deeper than that. We are doing the same exercises, against each other or side by side. I'm always her mother, but I'm also on her team. There is nothing like sweating together to create a special kind of bond!
---
Tanya (Harley and Keegan)
My sons had expressed an interest in taking karate classes. We were referred to Shotokan by a friend so we decided to go along to one of the classes to observe. At the class, we were warmly welcomed to participate. We decided to do that at the children's class which is on Monday and Wednesday evenings.
At the children's class, I saw several mums doing the classes with their children. They were at different stages from beginners to green belt holders. Not all of them were young!
I decided to join because of various reasons. Personally, I don't have much time to exercise so this was one avenue to do some. Secondly I needed to be at the class for my sons so it was a good opportunity to do the class instead of just waiting. Thirdly, I welcomed the opportunity to learn karate as a means of self defence.
The instructors have been very accommodating. They understand that we have different levels of fitness and agility. To this end, we are being encouraged to learn at our own pace which is great when you are a busy parent!
Finally , I love the opportunity to participate in an activity with my sons. Whilst I expect that they will outpace me in their karate learning, it provides a journey that we are travelling on together.
---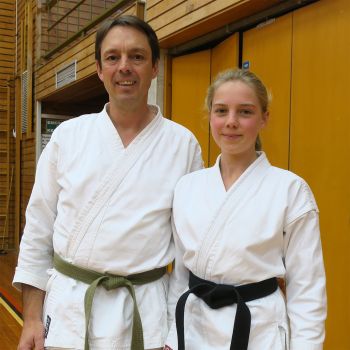 Chris (and Eva)
I returned to karate (after a 25 year break) because my daughter started lessons and I wanted us to participate in an activity together.
Being part of a structured club encourages me to train regularly and as a result my fitness and flexibility has increased significantly. Our instructors support us to continually improve while allowing us to develop our skills at our own pace. This is demonstrated by our members' diverse range of age, experience and ability and it is this diversity that I find special about our club. The club is welcoming and I am grateful for the new friendships I have developed because of this.
Training with my daughter gives us a common interest that has strengthened our bond together. It has been great to see her progress towards her black belt and for me it is a fun challenge to try and keep up with her.
---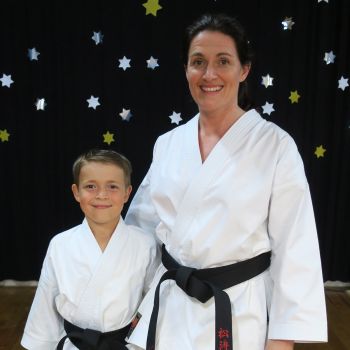 Gina (and Rory)
I watched my son start karate training, and then decided it would be much more fun to join in. It has been great training in a club that encourages parents and kids to train together, providing an excellent opportunity to fit exercise into a busy routine. Karate offers leadership opportunities for a very motivated group of senior kids, who are always happy to offer advice. Learning alongside my son has created a special bond and we motivate each other. I love watching him achieve, and offering me tips to improve my technique!
As I have progressed through the grades I have started training in the adult class as well. Karate is a great form of exercise, offering a combination of both physical and mental challenge, and every class is a little bit different. My strength, fitness, flexibility have all improved and I am a firm believer in the benefits of exercise for good mental health.
The club is very friendly, welcomes new members, and I have enjoyed the new friendships. We are privileged to train with Sensei Shahab.
---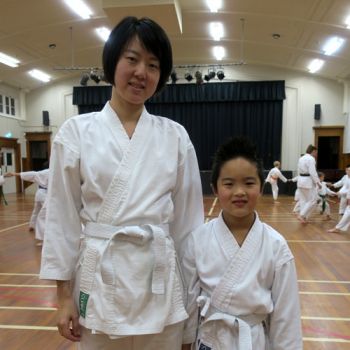 Selina (and Regan)
We started karate because it can protect us from any threat and will also keep us fit.
We can get quick reactions if someone every attacks us.
Karate is a very healthy exercise, it can make people more confident and powerful.
It's a great pleasure to be with my child to learn and grow.