Club Announcements
Grading
The final grading for the year will be Wednesday 9 December at 6:15pm at the Maungawhau School Hall.
Club Competition and End of Year Ceremony
Sunday 13 November at 1-5pm at the University of Auckland Teachers College Gym.
COVID has disrupted a lot of our training this year. To end on a positive note, after a challenging year, Sensei has organised a club competition. Everyone will be divided into groups of 3 students, at their level, and will perform 1 or 2 kata.
The competition will be followed by a ceremony for prizes, grading certificates. Then there will be a shared BBQ (exact details to be confirmed).
Last class for 2020, First Class for 2021
Our final class of the year will be on Saturday 12 December. Classes will resume on Monday 18 January 2021.
World Karate Federation – 50 Years Old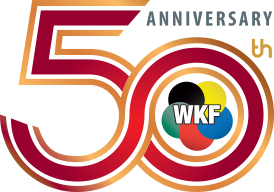 The World Karate Federation was created on 10 October 1970, in Tokyo (Japan). Now, 50 years later, we are commemorating not only that our organisation has reached such a momentous date; we are honouring the long and successful history of the organisation and our sport, a history full of brilliant and unforgettable moments, and open to a bright and hopeful future.
Public Holidays 2020
There will be no classes on the following public holidays:
Auckland Anniversary – Saturday 25 and Monday 27 January
Easter Weekend — Saturday 11 April
Easter Monday — Monday 13 April
Queen's Birthday — Monday 1 June
ANZAC day— Monday 27 April
Labour Day — Monday 26 October