Club Announcements
Public Holidays
There will be no classes over the following public hilidays:
Auckland Anniversary – Saturday 30 January and Monday 1 February
Waitangi – Saturday 6 and Monday 8 February
National Training Camp
Saturday 30 and Sunday 31 January
Saturday: Registration from 8:15 am; Start at 9:00 am; Finish at 5:00 pm.
Sunday: Start at 8:30 am; Finish at 4:30 pm.
This KNZ National Training Camp is open to Karate students aged from, and including, 8 years of age. All those players wishing to be part of the NZ team to Oceania in New Caledonia and/ or WKF Senior Worlds in Dubai (both scheduled for 2021) must attend this camp, and you are expected to attend both days.
One Day - $84, Both Days $120 (discount for additional family members: One Day - $56, Both Days $80)
The link to register is: https://forms.gle/BZba2JukrobQEPTAA
More information is available in the registration form.
World Karate Federation – 50 Years Old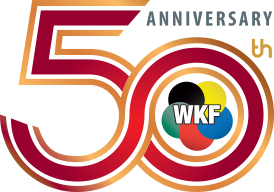 The World Karate Federation was created on 10 October 1970, in Tokyo (Japan). Now, 50 years later, we are commemorating not only that our organisation has reached such a momentous date; we are honouring the long and successful history of the organisation and our sport, a history full of brilliant and unforgettable moments, and open to a bright and hopeful future.
Public Holidays 2021
There will be no classes on the following public holidays:
Auckland Anniversary – Saturday 30 January and Monday 1 February
Waitangi – Saturday 6 and Monday 8 February
Easter — Saturday 3 and Monday 5 April
Queen's Birthday — Saturday 5 and Monday 7 June
ANZAC day— Saturday 24 and Monday 26 April
Labour Day — Saturday 23 and Monday 25 October